SDVAN Monthly Message 2018

ARCHIVED Monthly Messages


Archieved Monthly Messages for 2019
SDVAN Monthly Message for Jan 2019
Click above for entire January Monthly message

Dear SDVAN Visitors, Art Resources and Artists,
The holiday season is upon us and we want you all to enjoy every minute of it and then whoosh we want to wish you Happy New Year and then whoosh again and it is January!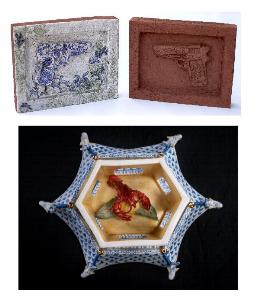 Our banner is in support of Beyond Blue – Mavi – Ma Vie:: Irene de Watteville and Belize Iristay Jan 12 to March 9, 2019 at The Athenaeum Music and Arts Library in La Jolla. Opening Reception Fri. Jan 11 from 6:30 to 8:30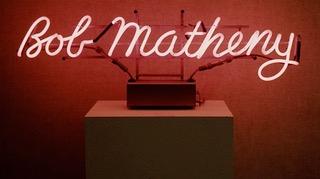 Finally his name up in Lights, Bob Matheny - Almost Anonymous starts on Dec 15 at the San Diego History Center (1649 El Prado. Ste. 3 in Balboa Park). More info:Kaytie Johnson 619-232-6203 x1Bob Matheny is one of the SD Art Prize recipients for 2018. Watch for his show at the Athenaeum in May with Anne Mudge, Max Daily and Erin Dace Behling

Read the entire RAW column for December, 2018

"Inject rhythm into your painting, like a musical score." Wassily Kandinsky

Art Reports by or about SDVAN

Cannon Gallery 2019 Juried Biennial Picked Ripe by Patricia Frischer
Spectacular Stitching: Quilts are the stars at Visions Art Museum in Liberty Station; National 'Best Of' exhibit runs through Jan. 3, 2019 La Jolla Light and Picked Ripe by Lonnie Burstein Hewitt
Watershed Moments: Visiting Works from the Jerusalem Biennale at Leichtag Picked Ripe by Patricia Frischer
The art-tech tide is rising in Balboa Park La Jolla Light and Picked Ripe by Lonnie Burstein Hewitt
Hotels/Motels (Unofficial Art Fair 2018), Rising Tide at SDAI, Bob Matheny - Almost Anonymous Picked RAW Peeled by Patricia Frischer


Read State of Mind, State of the Arts, 2019 A+ Art Blog by Patricia Frischer.

My personal best wishes for the holidays and the happiest of New Year's to you. .

Patricia Frischer, founder/coordinator SDVAN
patricia@sdvisualarts.net

On a personal note: We have a great opportunity to explore India for the next few weeks and I will be posting news of the trip on the A+ Art Blog. You can sign up on that site to get the reports as soon as they are posted or wait until the end of January and read about the trip in your next SDVAN monthly message.

SDVAN Monthly Message for February, 2019
Click above to read the entire Monthly Message

Dear SDVAN Visitors, Art Resources and Artists,

A peculiar fact about termite-tapeworm-fungus-moss art is that it goes always forward, eating its own boundaries, and, likely as not, leaves nothing in its path other than the signs of eager, industrious, unkempt activity. Manny Farber

Our banner is in support of The Studio Door Preview Day on Jan 19. Noon to 7 PM with live music from A New High at 1 and 5. This Studio Door has survived and moved to a new Hillcrest location: 3867 Fourth Avenue, SD 92104 with new tel: 619-255-2867. Like a new year's harbinger it has returned to us better than ever. More info: Patric Stillman

Becoming an artist that gets paid isn't just about being able to create beautiful artwork; it is about becoming a professional. If you have a strong interest in being an artist and have begun to build a body of work, The Business of Art Scholarship may be the next step for you to navigate the complex art industry while participating in this year's Mission Federal ArtWalk. The scholarship is a unique opportunity for an artist who has a body of work to showcase and is interested in selling their artwork during Mission Federal ArtWalk. To ensure a successful launch at this year's festival, the artist will receive personalized mentoring from Patric Stillman, artist and owner of The Studio Door, and receive an exceptional media package provided by San Diego Visual Arts Network. The Business of Art scholarship is presented by Mission Federal ArtWalk, San Diego Visual Arts Network and The Studio Door for the 35th Annual Mission Federal ArtWalk [April 27 and 28, 2019]. There is no application fee for this opportunity. Recent scholars include Eleanor Greer (2018) and Mikaela McLeish (2017). Due Feb 1, APPLY TODAY >>>> Click here to download application.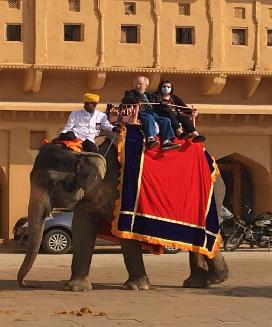 I spent the holidays in India, extremely complex country with so many levels, and so many influences which have formed it. It is not really a melting pot in the sense America is, more like a 10 course meal. Survival seems prominent to the detriment of culture. That is why it is so amazing that the culture is what one still feels ties the country together. As the world grows so much smaller because of world wide web communication, I am not sure that the contemporary culture especially in fine art, can sustain an Indian identity. It can have India subject matter but not a true Indian individuality...I don't believe that exist anywhere in the world anymore as we are now so interconnected and influenced. If art is the harbinger of new things, then coming together to create unified art might sign a coming together of one world and a new sense of how we need to interconnect to have world peace. I know that sounds preachy, but I think world peace is most important than identity. I say that because I have a very strong sense of our self uniqueness and am not worried about that being lost.

Art Reports by or about SDVAN

Great Big Indian Wedding: Cultural event that ends my year! A+ Art Blog by Patricia Frischer
India: Monuments and Museums A+ Art Blog by Patricia Frischer
India: Modern and Contemporary Art A+ Art Blog by Patricia Frischer
Barnsley House Hotel and Spa A+ Art Blog by Patricia Frischer

Read the entire RAW column for January, 2019.

Remember to list your events to be included on our home page in the featured event sections and on our View Art app.

Patricia Frischer
coordinator, SDVAN

On a personal note: I am sending greeting from the countyside in England, enjoying gastropubs and a much needed rest after our excursions in India. I hope you enjoyed reading about my adventures in my A+Blog . We are excited about the re-opening of The Studio Door and about the continuation of the deWatteville/Iristay show at the Athenaeum. Both of which I will cover on my return in our Picked RAW Peeled column.

SDVAN Monthly Message for March 2019
Click above to read the entire Monthly Message

Dear SDVAN Visitors, Art Resources and Artists,

"Anxiety is love's greatest killer" Anaïs Nin

Our banner is in support of Life Doesn't Frighten Me: Art, Life and Hope. Fallbrook Library, March 14 - May 3. More info: Kira Corser.

Congratulations to Molly Paulick who has been selected as the San Diego Visual Arts Network 2019 The Business of Art Scholarship award winner. Patric Stillman from Studio Door will be mentoring her and you will have a chance to meet her at the 35th Annual Mission Federal ArtWalk on April 27 and 28.

Art Reports by or about SDVAN

Beyond Blue – Mavi – Ma Vie: Irene de Watteville and Belize Iristay at the Athenaeum Picked RAW Peeled by Patricia Frischer
Athenaeum's 'Beyond Blue' art exhibit in La Jolla can chase your blues away Picked RAW Peeled by Lonnie Burstein Hewitt
The Studio Door Now Open for Business Picked RAW Peeled by Patricia Frischer
Pause/Play Fleet Science Center Picked Ripe by Patricia Frischer
Courtney Mattison at Lux Art Institute Picked Ripe by Patricia Frischer
Winter Openings at OMA and the 1st Encinitas Art Nigh tPicked RAW Peeled by Patricia Frischer
The last two reports from England:
The Cotwolds: Purton and Cirencester A+ Art Blog by Patricia Frischer
Modern Couples at the Barbican A+ Art Blog by Patricia Frischer

Read the entire RAW column for February, 2019.

OPPORTUNITIES (click to see a list of all current opportunities listed on SDVAN)

The International Friendship Commission (IFC) of the City of Chula Vista is now accepting applications for the 2019 Ambassador Program with Sister City Odawara, Japan. Four exchange young people between the ages of 18 and 23 will be selected and hosted in each city. Candidates must be in college or college bound, or be young professionals and must be Chula Vista residents. The IFC provides up to $1,000 travel stipend toward airfare. US Ambassadors will be in Odawara, Japan, August 1-13, and the Japanese Ambassadors will be in Chula Vista August 13-23. Application must be completed by 5 p.m. on March 11, 2019. For more information, please contact Cultural Arts Manager Lynnette Tessitore at 619.409.5465.

Carlsbad's Front Porch Gallery Annual Open Juried competition showcasing the best of what San Diego County artists are currently creating is currently calling for applications. Featuring a wide variety of mediums such as painting, sculpture, mixed media, fiber art, photography, ceramics, basketry, mosaic, etc, this competitive exhibit is highly anticipated by artists as well as the community at large. More info: Julie Weaverling 760-795-6120

56th annual Lenten Art Show at St. Mark\'s United Methodist Church from March 10 to April 21 with a reception on March 16. All media juried art show $15 for 1st work, $7 each 2nd & 3rd work Donation 20% of any work sold; price set by artist. More info: Judy Edelblute 858-278-0255

Remember to list your events to be included on our home page in the featured event sections and on our View Art app..

Patricia Frischer
coordinator, SDVAN

On a personal note: I am including the last two reports from the countyside in England I hope you enjoyed reading about them in my A+Blog. There are lots of reports on local events this month to make up for my month away from San Diego.

On Sat March 2 nd at 6 pm the LOS ANGELES BALALAIKA ORCHESTRA CONCERT will be performing at the Encinitas Community Center and I will be volunteering for this event put on by the Encinitas Friends of the Arts. I hope to see some of you there.

I have a few of my own paintings in a show Life Doesn't Frighten Me: Hope Inspired through Art at Fallbrook Library, March 10 - May 4, opening reception March 15, from 6:00 to 8:00 pm. I am starting to show my own art again as I make time in my life for more of my own creations.

SDVAN Monthly Message for April 2019
Click above to read the entire Monthly Message

Dear SDVAN Visitors, Art Resources and Artists,

"I have always stood in awe of the camera. I recognize it for the instrument it is, part Stradivarius, part scalpel." Irving Penn

Our banner is in support of Molly Paulick who has been selected as the San Diego Visual Arts Network 2019 The Business of Art Scholarship award winner will be featured at the 35th Annual Mission Federal ArtWalk on April 27 and 28. Patric Stillman from Studio Door has mentored her for this opportunity.

Art Reports by or about SDVAN

Tangible Memories at La Jolla Historical Society and La Jolla Daughter and Father Artist. Picked Ripe by Patricia Frischer
Life Doesn't Frighten Me: Hope Inspired through Art at Fallbrook Library Picked RAW Peeled by Patricia Frischer
Desert X from Palm Springs to the Salton Sea Picked Ripe by Patricia Frischer

Read the entire RAW column for March, 2019.

OPPORTUNITIES (click to see a list of all current opportunities listed on SDVAN)

Del Mar Art Center Gallery (1101 Camino del Norte 92014) is making a call for new member artists. DMAC is offering both full and limited membership. Open to all emerging artists living in San Diego region. No craft or functional art Submission of artwork is 5 jpg images of art completed within the last three years. More info: Maidy Morhous 858-259-0234

Museum and Arts Growing Escondido Culture (MAGEC) is looking for talented artists to exhibit and sell your work at Art in the Garden. This is a juried show located in Heritage Garden adjacent to the Grand Avenue Street Festival in Escondido on Sunday May 19, 2019 9am-5pm. $10.00 application fee and a further space fee for those accepted of $55 for approx. 10'x 10' booth. Application deadline is May 4. More info Carol Rogers 760-715-4958

Mission Federal ArtWalk needs 250 volunteers this year on April 27 & April 28. You'll get to meet artists who travel from all over the US and Mexico, and assist with a variety of tasks, from set up, to assisting with a charity auction and more. There are fabulous perks as well. Minimum age to volunteer is 16 years. Learn more and sign up here! Spaces are also still available for fine artists for the 35th annual festival Italy district, Each participating artist has a dedicated page on their website, www.missionfederalartwalk.org. Photography and Jewelry categories are currently full. Applications are available for all other mediums. Apply online today by clicking here.

Remember to list your events to be included on our home page in the featured event sections and on our View Art app..

Patricia Frischer
coordinator, SDVAN

On a personal note:
Mark your calendar for the SD Art Prize Presented by San Diego Visual Arts Network at the Athenaeum Music & Arts Library (1008 Wall St. La Jolla, 92037) with Anne Mudge with Erin Dace Behling, and Robert Matheny with Max Robert Daily. This exhibitions runs from Sat, May 11 to Sat, July 6 with an opening reception on Friday, May 10, 2019 from 6:30 to 8:30. More info:press@ljathenaeum.org 858.454.5872 or Patricia Frischer Now available for free SD Art Prize Catalog 2018

Passport to Dance: One Evening, Five Countries takes place on Sat, May 11, 7 pm – 9 pm. Presented by Encinitas Friends of the Arts (EFA) at the Encinitas Community Center(1140 Oakcrest Park Drive). Take a journey with the EFA to celebrate Indonesia, China, Spain, Ireland and America, through dance, live music and visual arts. Featuring: Flamenco Arana, LITVAKdance Company, Malone Academy of Irish Dance, Pete Polansky on fiddle and friends, Blue Ming Chinese Dance Company and Ni Wayan Ekarini, Balinese Spiritual Journey. This is a fundraiser for Public Art and Arts Education in Encinitas, Global items for sale at the marketplace including refreshments. Passport to Dance-Tickets.

Remember, I have a few of my own paintings in a show Life Doesn't Frighten Me: Hope Inspired through Art at Fallbrook Library, March 10 - May 4, opening reception March 15, from 6:00 to 8:00 pm. I am starting to show my own art again as I make time in my life for more of my own creations.

SDVAN Monthly Message for May 2019
Click above to read the entire Monthly Message

Dear SDVAN Visitors, Art Resources and Artists,

"(My art)…has as much to do with re-acting as acting" Julian Schnabel

Our banner is in support of the SD Art Prize Presented by San Diego Visual Arts Network at the Athenaeum Music & Arts Library (1008 Wall St. La Jolla, 92037) with Anne Mudge with Erin Dace Behling, and Robert Matheny with Max Robert Daily. This exhibitions runs fromSat, May 11 to Sat, July 6 with an opening reception on Friday, May 10, 2019 from 6:30 to 8:30. More info:press@ljathenaeum.org 858.454.5872 or Patricia Frischer Now available for free SD Art Prize Catalog 2018

Art Reports by or about SDVAN include

Minoru Obira at Lux Art Institute and Jean Lowe Carpet Showroom at Quint Picked Ripe Peeled by Patricia Frischer

Remember: Molly Paulick who has been selected as the San Diego Visual Arts Network 2019 The Business of Art Scholarship award winner will be featured at the 35th Annual Mission Federal ArtWalk on April 27 and 28. Patric Stillman from Studio Door has mentored her for this opportunity.

Read the entire RAW column for March, 2019.

OPPORTUNITIES (click to see a list of all current opportunities listed on SDVAN)

Synergy Arts Foundation is seeking six professional artists to mentor and collaborate with six young adults with autism. These young adults have an established body of work and are pursuing visual art as a vocation.

Mentor artist will dedicate three (3) two-hour sessions one-on-one to create one collaborative artwork (18" x 24") using the broad theme of "community". The balance of these sessions will be used to guide the mentee in creating one artwork. Each mentor will receive a stipend of $350 for these three sessions and to help cover the cost of any materials. The collaborative piece, the mentee's original piece and one (existing) artwork by the mentor will be exhibited at Foundry Gallery, Revision, Lux Art Institute, and Culture Brewing. To apply, please send a resume and cover letter to Naomi Nussbaum by April 30 for a final exhibition in September 2020.

There is a new full time tenure track ceramics/sculpture position at San Diego City College. Check it out here.

Volunteer beer servers are needed for the Craft Beer Block at the 23rd Annual SDCCU Festival of Arts in North Park on Saturday, May 11th. The festival is a community event for the betterment of North Park and for arts education. Contact Maximilian Guardacosta 619.294.2501

Front Porch Gallery and Oceanside Museum of Art are collaborating on a juried photography exhibit, The Six-Word Story. All selections will be shown at both venues. See the full prospectus for this no fee entry or contact Julie 760-795-6120

The City of Carlsbad's Library & Cultural Arts Department is seeking a mural artist to create a large-scale mural that will be all-ages friendly and have a strong visual impact. The mural will be located on the west-facing INTERIOR wall of the Georgina Cole Library, located in north Carlsbad near the intersection of Carlsbad Village Drive and Pio Pico Blvd. For more info: Karen McGuire 760.602.202

Patricia Frischer
coordinator, SDVAN

On a personal note:
Passport to Dance: One Evening, Five Countries takes place on Sat, May 11, 7 pm – 9 pm. Presented by Encinitas Friends of the Arts (EFA) at the Encinitas Community Center(1140 Oakcrest Park Drive). Take a journey with the EFA to celebrate Indonesia, China, Spain, Ireland and America, through dance, live music and visual arts. Featuring: Flamenco Arana, LITVAKdance Company, Malone Academy of Irish Dance, Pete Polansky on fiddle and friends, Blue Ming Chinese Dance Company and Ni Wayan Ekarini, Balinese Spiritual Journey. This is a fundraiser for Public Art and Arts Education in Encinitas, Global items for sale at the marketplace including refreshments. Passport to Dance-Tickets.

SDVAN Monthly Message for June 2019
Click above to read the entire Monthly Message

Dear SDVAN Visitors, Art Resources and Artists,

"A good photograph is one that communicates a fact, touches the heart and leaves the viewer a changed person for having seen it. It is, in a word, effective." Irving Penn

SD Art Prize at the Athenaeum produced by San Diego Visual Arts NetworkPicked RAW Peeled by Patricia Frischer
Art Walk Little Italy April 2019 Picked RAW Peeled by Patricia Frischer
Ruth Platner: Yom Hashoah - A Holocaust Remembrance through the Arts a Leichtag FoundationPicked Ripe by Patricia Frischer
Sandra Chanis sculptures: FRIVOLOUS Picked Ripe by Patricia Frischer
Passport to Dance produced by Encinitas Friends of the Arts A+ Art Blog by Patricia Frischer

Our banner is in support of theSan Diego Festival of the Arts. Multiple mediums of fine art and craft including (left to right) Michael Maddy, Jon Barnes, Sheila Schwede on Sat. June 8 from 10-6 and Sun. June 9 from 10-5. Waterfront Park (1600 Pacific Highway, SD 92101). SD Festival of the Arts has raised in excess of $2.5 million in support of 33+ adaptive sports programs benefiting more than 150,000 San Diegans with disabilities. More info Cami Tran 619.744.0534

San Diego Visual Arts Network has a new Ongoing Events feature page on the website. So not only will we feature any event listed on our home page and in on our calendar, it will also appear with an image on our ongoing events page until the event ends: https://www.sdvisualarts.net/sdvan_new/ongoing_events.php
Read more.

San Diego Visual Arts Network is pleased to announce that Chi Essary has been selected as the new curator of the SD Art Prize. Over the next year Essary will be streamlining and restructuring the prize to focus solely on emerging artists, increasing the prize's visibility and building public engagement. Read more.

Remember the SD Art Prize presented by San Diego Visual Arts Network at the Athenaeum Music & Arts Library (1008 Wall St. La Jolla, 92037) with Anne Mudge with Erin Dace Behling, and Robert Matheny with Max Robert Daily. This exhibitions runs until Sat, July 6 with More info: Patricia Frischer Now available for free words of support from Lynn Susholtz, Art Produce, Jacqueline Silverman, director San Diego Art Institute, Dave Hampton, curator for Robert Matheny and Jill Dawsey, PhD, Curator, Museum of Contemporary Art San Diego are available in the SD Art Prize Catalog 2018. Read about this exhibition: SD Art Prize at the Athenaeum produced by San Diego Visual Arts NetworkPicked RAW Peeled by Patricia Frischer

The new RAW column is now posted.. Remember to list your events to be included on our home page in the featured event sections and on our View Art app..

OPPORTUNITIES (click to see a list of all current opportunities listed on SDVAN)

The Athenaeum Music & Arts Library in La Jolla announced a call for entries for its 28th Annual Juried Exhibition . The deadline to apply is June 7 for this exhibition which is one of the best juried shows in San Diego

By the time you see this, the deadline will be over (May 22) but the SD Airport is commissioning a $300,000 new art work to be sited in front of security fencing that surrounds a secured Airside apron area used by airline tenants for staging of cargo and ground equipment. The artwork is expected to double as a screening element and may take the form of a screen, wall relief, or multiple successive sculptural elements.

The annual call for artists comes from the Mission Trails Regional Park to showcase your work in 2020. The deadline to apply is June 30 for application. For more info: Vicky DeLong 619-286-1361

Patricia Frischer
coordinator, SDVAN

On a personal note: Watch for our report on the third year of Wonderspaces which starts June 7 and is back at Pier B in downtown San Diego.

SDVAN Monthly Message for July 2019
Click above to read the entire Monthly Message

Dear SDVAN Visitors, Art Resources and Artists,

"I like to put my all into it because that is the whole point of making art, not to pretend I am someone else but put myself out there." C. Duncan

Art Reports by or about SDVAN
Fun, fine art and furniture featured at Art Prize exhibit in La Jolla La Jolla Light by Lonnie Burstein Hewitt
In Common at WonderspacesPicked RAW Peeled by Patricia Frischer
San Diego Museum of Art, June 2019 Picked Ripe by Patricia Frischer

Our banner is in support ofMethodology and Processat RB Stevenson Gallery including Richard Allen Morris and John Rogers in La Jolla on view until July 20. More info: 858.459.3917

I am pleased to announce the formation of the South County Arts Network. Like NCAN goes west to east, so does SCAN and includes all the visual and performing arts resource from south and east county. They are holding an organizational meeting on Sat. July 6 for arts leaders and we would like to see any of you there from this part of SD County. The meeting is from 10 am to noon at the Bonita Art and Cultural Museum. See full details and get your free tickets.Why should you go….Three Things You Need to Know A+ Art Blog by Patricia Frischer

As many of you know SDVAN has been very instrumental in forming the North County Arts Network. They put on a very successful Open Your Hearts to North County Arts last year which will happen again this fall of 2019. So make sure and list your October events on SDVAN as soon as possible to make sure you are included in the printed brochure.

The new RAW column is now posted.. Remember to list your events to be included on our home page in the featured event sections and on our View Art app..

OPPORTUNITIES (click to see a list of all current opportunities listed on SDVAN)

Lux Art Institute is looking for a new Membership Coordinator at $22/h to process donated, outstanding, and new memberships via Etapestry, mailing/email lists, and generate membership gifts.

It is that time of year when we are calling all fine artists who would like to participate in the 15th LeucadiART Walkpresented by 101 Mainstreet on August 25, 2019. This is the largest juried fine art walk in North County with 101 artists on display, live music, dance performance, live art opportunities and more! They invite you to apply via our website. Event details: Sunday, August 25th from 10am-5pm. More info: 760.436.2320 or info@Leucadia101.com

It is not too late (deadline June 30) to submit your lighted sculpture tree topper design for the Encinitas Holiday Tree. The theme this year is Spirit of Encinitas and it is the 25 th year of the lighting of this tree that has its own address and light source.

LEWIS is a global marketing agency with an office in downtown San Diego. They work with artists within the community to help bring exposure to their work. They are accepting submissions for digital, print, painting, drawing, mixed media and more to be hung in their office's Orbital Display for 12 months. The submission deadline is August 20th, 2019 and qualifying submissions will be chosen by September 3rd. If interested in details of the call, who we are, and what the display is all about, please contact Halston 6193085229 requesting the essential call documents and mood board

Art On 30th / Ashton Gallery is making a call for artists for its show 75 and Sunny. Any piece that has prominent yellow is eligible. Any piece that captures the spirit of summer in San Diego is eligible. Also, if you are 75 years old, your entry is free. $35 for 1 to 2 entries $45 for 3-4 entries. Juror: Cindy Blumkin Owner, ArtnSoul 101. Submit by July 5 for opening reception on July 13 More info: Ari Kate Ashton 619-894-9009

Patricia Frischer
coordinator, SDVAN

On a personal note:
Congratulation to Space4Art who is celebrating its 10 th anniversary. If you have not taken their Permanent Home Survey, please do so.

We are looking forward to seeing the Melissa Walter exhibition at ICE Gallery at the Bread and Salt building in Barrio Logon which open June 29 th.

It is that time of year for the change-over of new sculptures at the SD Botanical Gardens in Encinitas. Thanks to Naomi Nussbaum for this huge effort. This project has gone from displaying more than 60 local artists last year to 10 this year because of policy changes at the Gardens. Please send your letter of support to Susanne Brueckner at sbrueckner@sdbgarden.org to preserve this merging of art and garden.

SDVAN Monthly Message for August 2019
Click above to read the entire Monthly Message

Dear SDVAN Visitors, Art Resources and Artists,

"Working on Photography is working on oneself." Irving Penn

Art Reports by or about SDVAN
Melissa Walter at Ice Gallery, Bread and Salt Picked Ripe by Patricia Frischer
Adam Belt at Quint Gallery Picked Ripe by Patricia Frischer
Richard Allen Morris and John Rogers at RB Stevenson in La JollaPicked RAW Peeled by Patricia Frischer
'Wonderspaces' interactive-art experience pops up again in San Diego La Jolla Light by Lonnie Burstein Hewitt
Kaleidoscope of Dance exhibition at Sergott Contemporary Art Alliance Picked Ripe by Patricia Frischer
Light and Space: Contemporary Continuations at Cannon Gallery Picked Ripe by Patricia Frischer
Birthing a New Art Organization A+ Art Blog by Patricia Frischer

This month's banner is in support of ArtsBusXpress, a non-profit organization which provides transportation funding for teachers to take their students to the many arts and culture venues across the county. As teachers make plans to return to school this fall and include educational field trips as part of their curriculum, please support their efforts by providing them with the gift of transportation. For many students, these educational field study trips are their first time to experience live theatre, symphonies and art museums. You can donate to their cause at ArtsBusXpress because "no child should ever have to miss the bus!"

Remember: If you are in North County, list your events on SDVAN by the end of August to be included in the October brochure for Open Your Hearts to North County.

Save the date: Oct 10 to 13 for Art San Diego this year at the SD Convention Center. This is the 11 th year that the San Diego Art Prize will be featured.

The new RAW column is now posted.. Remember to list your events to be included on our home page in the featured event sections and on our View Art app..

OPPORTUNITIES (click to see a list of all current opportunities listed on SDVAN)

Now is the time to sign up for ArtWalk Liberty Station August 10 & 11. In 2019, ArtWalk @ Liberty Station celebrates 14 years of bringing visual arts, music, and interactive art-making for families to San Diego in beautiful Ingram Plaza at the Arts District at LIberty Station. ArtWalk @ Liberty Station also features a shaded wine and beer pavilion and a street food area. And don't forget to sign up for ArtWalk Carlsbad September 21 & 22, 2019. In 2018, ArtWalk Carlsbad made its debut. This fine art festival is part of the ArtWalk San Diego brand known for bringing together all facets of the arts in San Diego while promoting the experience of owning original art. More than 175 visual artists will show and sell their work, alongside colorful chalk art that will fill the asphalt as you watch street paintings being created before your eyes on the pavement. This year A.J. Croce will perform Sunday Sept 22 afternoon performance at 2pm. More info Sean Christensen 619.615.1090

Patricia Frischer
coordinator, SDVAN

On a personal note:
Great congratulation to Vallo Riberto who is not only now the in charge of the Contemporary Art Committee of the San Diego Museum of Art but also curating our Art San Diego exhibition for the SD Art Prize.

SDVAN Monthly Message for September 2019
Click above to read the entire Monthly Message

Dear SDVAN Visitors, Art Resources and Artists,

"Youth is the gift of nature, but age is a work of art." Stanislaw Jerzy Lec

Art Reports by or about SDVAN
What's new at Museum of Contemporary Art San Diego downtown? Three makes-you-think exhibits open La Jolla Light by Lonnie Burstein Hewitt
Athenaeum Annual Juried Exhibition July and August, 2019 Picked Ripe by Patricia Frischer
Oceanside Museum of Art - Four in one: Roland Reiss, Dress Rehearsal plus Picked Ripe by Patricia Frischer
Ocular Artist A+ Art Blog by Patricia Frischer

Our banner this month is in support of the Open Your Hearts to North County Arts campaign to promote visual and performing art for the entire month of October. Remember to list your north county visual arts events on SDVAN for Oct so it will be displayed on the . North County Arts Network website. Please buy your tickets for ArtWalk Carlsbad on Sept 21/22 where for the second year, this promotion is being launched with this code which will give $2 per ticket back to NCAN.

San Diego Visual Arts Network is pleased to announce the four finalist that have been nominated by a group of art professionals for the San Diego Art Prize in 2020 - Alanna Airitam, Kaori Fukuyama, Griselda Rosas, and Melissa Walter. These four artist were chosen from the nomination list for an exhibit at the Athenaeum Music & Arts Library from Sat, May 9 to Sat, July 3, 202 0when the winner will be announced. The four nominated artists will be showing examples of their work at Art San Diego from Thurs, Oct 10 to Sun, Oct 13, 2019, this year at theSan Diego Convention Center Booth #122 (Hall E 111 W Harbor Dr. SD, 92101). A selection of artists will be on display curated by Vallo Riberto, former gallery director at Southwestern College and current president of the Contemporary Art Committee of the San Diego Museum of Art. Read the full press release SD Art Prize 2020 Finalist Announced including new members of the SD Art Prize committee Larry Baza and Alessandra Moctezuma.

The new RAW column is now posted.. Remember to list your events to be included on our home page in the featured event sections and on our View Art app..

OPPORTUNITIES (click to see a list of all current opportunities listed on SDVAN)

The 28th Annual Juried Exhibition runs from July 20–August 24, 2019 at the Athenaeum Music and Arts Library is a show we always look forward to viewing. The following is a personal selection and does not show the wide selection made by the jurors: Anthony Graham, Assistant Curator, MCASD and Alana Hernandez, Curatorial Fellow, MCASD.

Encinitas City Art Exhibitions is inviting submissions from contemporary artists in various forms of 2D Media, Sculpture-based, Mosaics & Ceramics, inspired by the theme of Oneness and Unity of existence. The is an Art Interfaith exhibition with the goal of promotion of the spirit of Unity and oneness through the universal language of ART produced jointly by M.T.O. Shahmaghsoudi® School of Islamic Sufism® in collaboration with SDIMA (San Dieguito Interfaith Ministerial Association). Deadline: August 31, 2019. For more info: Soori McEachern 619-866-8808

The California Arts Council 2019-20 grant season is coming to you by mid-September! Be sure to check your ArtBeat newsletter weekly for all the need-to-know info, including program-specific details, dates, guidelines and more.

Patricia Frischer
coordinator, SDVAN

On a personal note:
South and East County Arts Network (SECAN) will have their next meeting in mid-September. Send Blanca your email address to be added to the list to get minutes, agendas and updates about this new organization.

Encinitas Friends of the Arts is holding its third EFA Artists Collective meetingon Sept 28 at the Encinitas Library from 3 to 5 pm. RSVP to be included in this meeting to establish goals and projects for local artists. There is a call for a new logo for this group and a prize to the design used. More info: Angela Jackson

SDVAN Monthly Message for October 2019
Click above to read the entire Monthly Message

SDVAN Monthly Message for November 2019
Click above to read the entire Monthly Message

SDVAN Monthly Message for December 2019
Click above to read the entire Monthly Message